How May We Help You?

We hope you will feel welcome at Hale Centre Theatre. Allow us to tell you about
our theatre and answer our patron's most common questions.
Hours and Location

We are located just off I-15 in Sandy, Utah
Take exit 293 or 295 to reach Hale Centre Theatre
9900 South Monroe Street
Sandy, UT 84070

Box Office Hours: Monday - Saturday 10:00 a.m. - 9:00 p.m.
Phone: 801.984.9000
Email: supervisor@hct.org




Seating Charts

Performance Times
Monday - Saturday evenings at 7:30 p.m.
Weekday matinees at 4:00 p.m.
Saturday matinees at 12:30 p.m. and 4:00 p.m.

A Christmas Carol performance times:
Monday - Saturday evenings at 8:00 p.m.
Weekday matinees at 5:00 p.m.
Saturday matinees at 11:00 a.m., 2:00 p.m. and 5:00 p.m.

Arrival for Performances
Doors open for seating 30 minutes before each performance. Please plan to arrive at least 15 minutes before your scheduled performance time.

Latecomers will be seated at the discretion of the House Manager at the first appropriate and safe break that allows for the least disruption for the actors and the audience. Alternate seating will be assigned, meaning that your party will not sit together or in the seats that were originally assigned.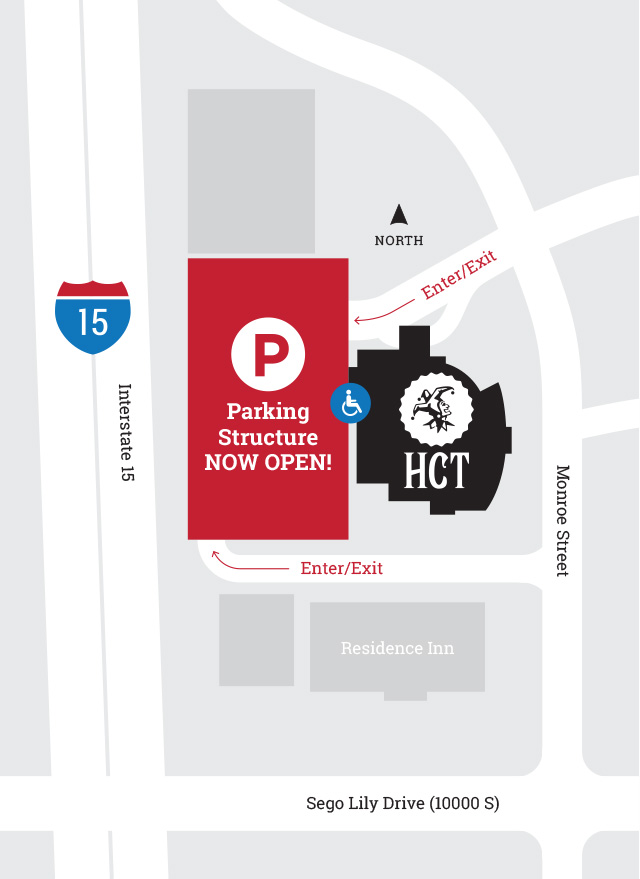 No Ticket Refunds or Cancellations
Tickets are non-refundable and no credits can be issued for unused tickets, whether they were purchased individually or as part of a season ticket package. Refunds, credits or alternate dates are not offered for missed performances.



Ticket Exchanges

We do not guarantee you can exchange a ticket. Exchanges are allowed only
in the following situations:

Tickets purchased for individual plays (not season tickets) may be exchanged
for a $10 fee with at least 48 hours notice prior to the scheduled performance.
These tickets may be exchanged for another available night of the same
production or to a future production. We cannot guarantee availability for an
exchange.

Tickets that are part of a Season Ticket package can be exchanged for free once
per play with at least 48 hours notice prior to the scheduled performance. Any
additional exchange is $10. Season tickets must be exchanged for another
performance allowed by that ticket type during the same run. If the performance
is outside of the dates allowed within a Season Ticket type, there is an upgrade
fee per ticket required to attend. This is in addition to the exchange fee, if
applicable. We cannot guarantee availability for an exchange.

 
Performance Cancellations
Performance cancellations due to weather or other circumstances are very rare.
When a performance must be cancelled, we will make every attempt to contact
you to make arrangements for an alternate date. Please note: Hale Centre Theatre
does not offer refunds due to bad weather when a performance is taking place.

Child Attendance
Hale Centre Theatre welcomes individuals who are five (5) and older to attend any scheduled performance. We do not allow children under the age of 5 or babes in arms in the theatre. On occasion, a production will have special matinees for those three (3) and older. Please inquire at the Box Office.

We endeavor to provide quality family-friendly productions, however we advise parents to be aware of the subject matter before bringing younger children.